We are proud to be a partner of the College Swimming & Diving Coaches Association of America.
Welcome. The Swim Stroke Doctor system is very special as every coach and swimmer adds something unique to the mix, and together we create a method that helps swimmers gain improvement in their swimming strokes. Thousands of hours have gone into the development of the Swim Stroke Doctor systems and we're dedicated to making it better every day. Thank you for making it part of your world.
The Swim Stroke Doctor video systems are by far the most versatile and easy-to-use systems out there.

"Lane View" System #280: The ability to get moving video from the front of the stroke, the rear of the stroke and the side of the stroke make this system a great tool for any coach that believes video analysis can be a great learning tool. Motion video is streamed live and saved with immediate replay. You can see a swimmers complete stroke cycle of a 25y or 25m course. Video is a great way to increase your swimmers stroke profile.
Video length 0:1:14 Deckside interactions

In swimming, it's all about the stroke. Utilizing our patented motion video technology you are able to study form and factor to make technique corrections.
Important views for analysis include Lane View, Side View, 45 Degree View, and Starts / Turns.
"The system lets you capture an entire pool length of the stroke. This is great since you can see if the stroke changes during that time. Most systems only allow a single stroke cycle and aren't as stable. Most kids are visual learners and this gives them a chance to see what you are talking about in order to make stroke corrections."
Mike Laurich, Head Site Swim Coach, Academy Bullets Swim Club IL
What RESULTS do we Expect: Every swimmer has stroke correction needs. We focus to correct a single stroke flaw at a time. When swimming 100 yards the swimmer has the potential to quickly will drop 1.6 seconds and more depending on the stroke. Technique Training does not get any better than this.
"The Swim Stroke Doctor video system is by far the most versatile and easy to use system out there. The ability to get moving video from the front of the stroke, the rear of the stroke and the side of the stroke makes this system a great tool for any coach that believes video analysis can be a great learning tool."
Coach Dave Sheets – Duquesne University, 2018 and 2019 A-10 Women's Champions, A-10 Women's coach of the year.
"Tune-up" System #300. Our newest video platform is geared for technique tune-ups. The handheld unit is easy, fast and fun to use. Video is live to DVR and saved for immediate replay.
Camera can also take photos. DVR features usb, hdmi, with a lithium-ion rechargeable battery.
System #300 is easy to use and able to capture video from underwater and above water swimmer views from the deck.
Video length 0:3:15 – Backstroke Testing Progression – "Tune-up" system
When first testing an athlete, we look to see if their line is straight. When they push off the wall in streamline, are they inline? Here we are checking straight in front and back views. Straight tells a story and is the first starting point for corrections. We video, then bring the swimmer to the deck for review of the video. We ask the swimmer what THEY see. This is important for the swimmer to focus. We talk stroke, then back into the water for another video to view progression.
Next we look at the underwater dolphin and the critical component of head position. There are other components in this swimmers backstroke to correct, but we are looking for ONE correction that can make a big difference. The swimmer comes to the deck and we ask "What do you see?" When the swimmer surfaces, her head reaches up and out of streamline creating turbulence like a log jam. Her head is up, and the hips are low. We review the corrections and back to the pool.
We move the swimmer a one lane over for a slightly different view. Head position and streamline is improved.
The "Tune-Up" continues with additional underwater and above water views. We review with the swimmer with the focus on "What do they see?" At the end of the session the corrective technique plan is reviewed with the swimmer, video is uploaded with the next video review scheduled for 2 weeks later.

In the swimmers next video session, we review the original points and then begin work on the arm entry and catch.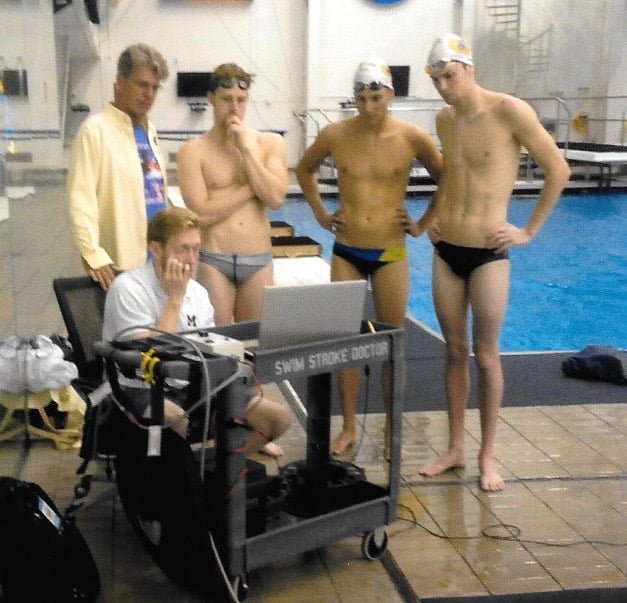 University of Michigan, with Coach Mike Bottom. When looking at video, swimmers think…Wow, am i really swimming like that?
System Comparison table:
System Comparison
Lane View
#280
Tune-up
#300
Custom
#400
Stream Video
x
x
x
Motion System
x
x

Easy to operate
x
x
x

Immediate Save
x
x
x
Immediate Replay
x
x
x
Photos
x
x

Deckside operation
x
x

Poolside operation
x
x
5 Minute Setup
x
x
15 Minute Setup
x
x
.mp4 format
x
x
x
Operates from computer

x
x
Motion control
x
x
Video control
x
x

One Year Warranty
x
x
x
Starting at
contact us
contact us
contact us
For more information – dvlynch@swimstrokedoctor.com or 708-829-8392. See you at the CSCAA.